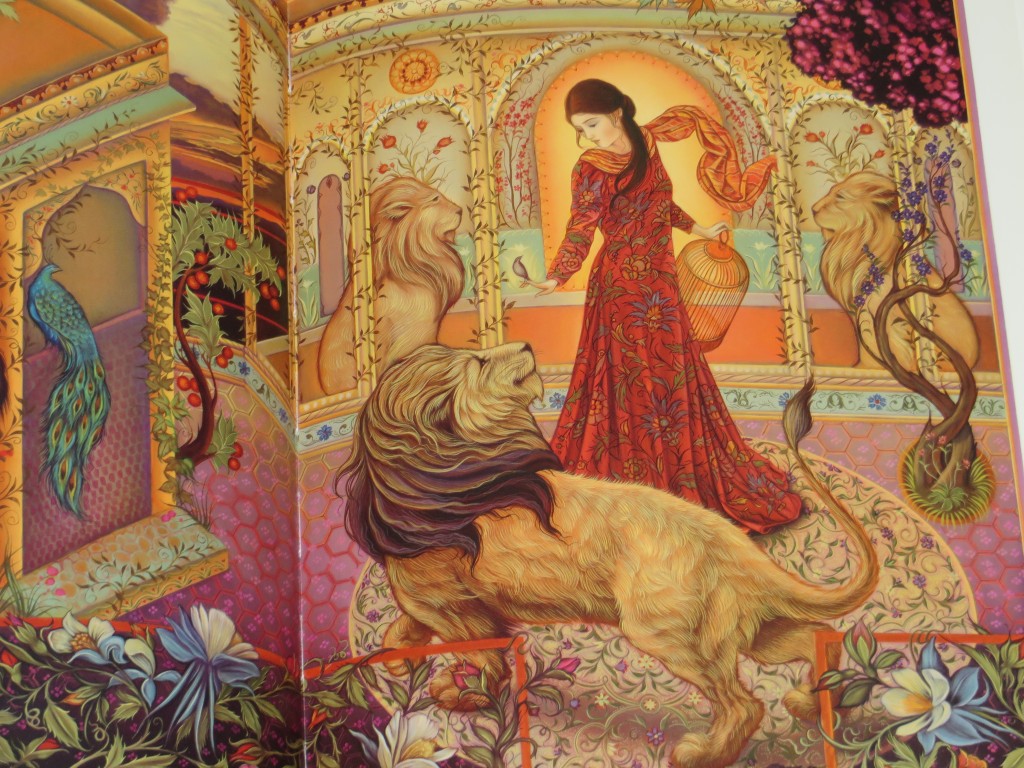 Once upon a time, a merchant asked his three daughters
what he should bring them from the city. The first asked
for pearls, the second for gold, but the youngest longed for
a singing lark. The merchant found a gold necklace and a
bracelet of gold, but there were no songbirds to be had for love
or money that winter.
He turned towards home, sorry to disappoint his youngest
daughter. The road took him past a fine castle, with a grand
garden full of spring flowers in spite of the winter snows. At the
top of a laurel tree, a lark sang.
While the boys show polite interest in The Magic Nesting Doll, by the same author and illustrator, they adore this book (which combines and reworks elements of The Singing, Springing Lark; Beauty and the Beast; and East of the Sun, West of the Moon). They each want a copy of their own and I can absolutely see why. (It is gorgeous. Plus, lions and dragons and griffins. Oh, my!) My oldest enjoys pointing out the plot follows the Frozen principle of getting to know someone before marrying them and my youngest repeatedly (forcefully) requests it as a bedtime story.
Author: Laurel Long and Jacqueline K. Ogburn/The Grimm Brothers
Illustrator: Laurel Long